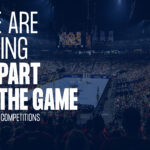 EHF Marketing GmbH is looking for a Handball Marketing Manager (f/m/d), starting from 01.07.2023, who is passionate about transforming the international world of handball with the senior management to develop future-ready marketing strategies for the world's biggest club handball competitions – the EHF Champions League, the EHF European League and the EHF European Cup for Men and Women. The EHF Marketing is based in Vienna, Austria.
Your task: Transformation. Project Management. Digital.
– The Handball Marketing Manager is not a traditional job advertisement
– This job is about nothing less than shaping the future of international handball.
– In doing so, you act as an interface and are responsible for a wide variety of areas such as: Project Management, Event Management, Marketing Communication, Implementation, Performance Marketing Manager & CRM
Your competencies: Energy. Mindset. Leadership.
– You are the right person for us if you are passionate about international handball
– You show a strong interest in the topics of sports business, project management and communication
– The terms marketing, campaign management and strategic analysis have crossed your path more than once
– You can work under pressure, are reliable and can organize yourself excellently
– Abilitytoleadateamandworkindependentlyinafast-pacedandchangingenvironment
– Flexibility and ability to travel frequently and work according to the schedule of the EHF Club Competitions
Your experiences: Handball. International. Marketing.
– Show us your purpose!
– BecausethejobofaHandballMarketingManagerdoesnotfollowaclearjobdescription, we would like to encourage you to convince us of your enthusiasm.
– You can shape everything else by yourself.
We are looking forward to your application.
Applications should be made in writing in English, with a current CV.
A part of the recruiting process is the three-day Business Scouting during the TruckScout24 EHF FINAL4 in Cologne. Please make sure that you can take part from the 16th to 18th of June in Cologne.
EHF Marketing GmbH
1120 Wien
Nina Kernmayer
E-Mail: APPLICATION@EHFMARKETING.COM
WWW.EUROHANDBALL.COM
Um dich für diesen Job zu bewerben, besuche bitte join.com.